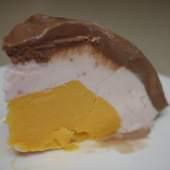 I love to have people over and even a casual gathering deserves great food. Making desserts is one of my favorite parts, because I love a sweet treat on a special occasion. There are so many great ways to incorporate ice cream into your party desserts. One of the easiest options is by making ice cream pies. You can make your own cookie crust or buy one pre-made and fill it with your favorite ice cream and sweets. It's a fun and easy project that can elevate your best homemade ice cream to an even more fun level.
Ice cream cake is just as easy, only this time you spread the layer of ice cream in between two layers of cake. With a little practice, it is just as easy as a dessert option as ice cream pie. There is something about ice cream cake that is inherently fun and silly. Use a less dense cake recipe, because a more solid cake (like pound cake) may get a little too hard being stored in the freezer.
A third option for a party dessert is an ice cream bombe. This dessert skips the crust or cake, and features layers of ice cream that are molded into a dome shape. Bombes typically feature three different flavors of ice cream or sorbet, which gives you a beautiful presentation because of the different colors. You can tailor the flavors to fit the theme of your party. For a holiday celebration, think about combining peppermint and chocolate layers in a yummy bombe.
Whether you are celebrating a holiday or just a random weekend, it's always better with a good dessert.